Death by PowerPoint is a myth. The true fatal diagnosis to millions of audience members that die daily in seats at training events, classrooms, conferences, and webinars world wide is the epidemic of poor design boredom.
With a little bit of creativity and just the right tool (and that includes PowerPoint), you can design simple yet effective visual presentations for concepts that are hard to visualize, or that you'd simply like to make more engaging, fun, eye-catching.
Here are a few tools I've used in the past that let you create live presentations and/or videos that won't kill your audience and will keep their attention for longer than 5 seconds… oh, but again, the best tool is a creative brain that is not afraid to experiment, have fun, make mistakes… as much as we designers like to say humor isn't universal, it is. Why not have fun and entertain your audience while they learn. Airlines have caught up to that idea…
Sparkol / Video Scribe – While Sparkol is a presentation tool while Video Scribe is an animated, well, video scribing tool. I've always enjoyed seeing those videos that have artists draw on the screen concepts that are being explained in real-time, as the narrative progresses. This is exactly what Video Scribe lets you achieve without having to draw a single image. It recognizes lines in vector graphics (readily and freely available on websites like OpenClipart) to generate an illusion of a hand drawing the images progressively on the screen. Videos can be exported into various formats available (including direct publication to Youtube).
Prezi – Prezi has been around for a while. It allows you to create zoom in/zoom out presentations and videos on what they call an infinite canvas. Sequences created in Prezi don't necessarily have to follow the linear nature of most PowerPoint presentations, and can be quite stunning. Prezi also lets you collaborate with your teammates in real time.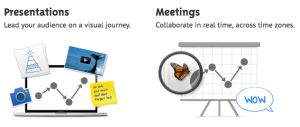 Spicynodes – This tool allows you to create non-linear and interactive mindmap presentations that can better represent your thought process or sequence.